The Richway and Fuji Bio Inc. Amethyst Biomat.
The Original Infrared mat.
Richway is the leading innovator in Infrared and Quantum Energy products for your home or practice.
Call toll free 1-877-Biomat-Order (1-877-246-6286)
or Securely Online Order the Richway and Fuji Bio Inc. Amethyst Biomat
Winter 2020 Special! November 23, 2020 to January 23, 2021: Get a FREE gift from Richway with your order.

Amethyst Biomat Queen
The Richway Biomat is a unique innovation in bio technology and had many different tests including Electro Magnetic field, and Emission Power tests. U.S F.D.A. Approved Class II Medical Device, Japan FDA Medical Device, Korea FDA Medical Device, CE, CVC, PSE, KMFDS, EAC, GMP, TUV, ISO 13485, ISO 9001, P.L.I. (F-2016-0219060).
For International orders for the Richway and Fuji Bio Inc. Amethyst Biomat:
Alaska

Australia


Asia (India, Philippines, Malaysia)

Canada

China

All countries in the EU zone 1 (United Kingdom, France, Netherland, Norway, Sweden, Germany, Italy, Belgium, Spain)

All countries in the EU zone 2 (Switzerland, Denmark, Hungary, Iceland, Estonia, Finland, Russia, Luxembourg, Portugal, Romania)

Hong Kong

Indonesia

Korea

New Zealand

Singapore

South America (Argentina, Brazil, Venezuela, Peru)

Taiwan

Thailand

Guam, Puerto Rico
Do you suffer from Minor joint pain and stiffness?
Minor muscle pain?
Joint pain associated with Arthritis?
Muscle spasms?
Minor sprains?
Minor strains?
Minor muscular back pain?

Watch the Biomat video
Download "The Fourth Treatment for Medical Refugees" Book. Written by Nobuhiro Yoshimizu M.D. Ph. D, Nakamachi Garden Clinic Director, this book discusses Thermo-therapy, the fourth treatment option. Get it here free.
"... I felt better for the first time in a couple of weeks. ......." Read more...
Bill and Jan
Big Sur, CA
May 2007
Electromagnetic Fields (EMF) is a term used to describe the invisible electric and magnetic fields radiating from all electrical appliances in the home, office or factory, in vehicles, overhead tram and train lines. All Richway Biomat products have been tested by TUV SUD for Electromagnetic Fields and were found to be in compliance with IEC 62233 (ed. 1) and EN 62233:2008.
Are there any contraindications? Yes. It is always recommended to consult with your physician before the use of the Biomat. Remember to stay hydrated while using the Biomat. Read the contraindications in our Biomat FAQ's...
The Biomat is available in 5 different sizes and contains 17 different layers.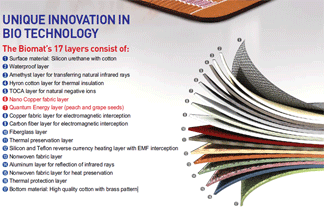 I want to get more restful sleep, I am ready to order the Biomat