We hope that you will find all our products to be of exceptional quality, and you receive many health benefits as a result of using them. Richway and Fuji Bio Inc. continues to seek enhancing and innovative ways that allow you to live and look both healthy and happy. Richway Fuji Bio Inc. BioMat creates all of our products with cutting edge technology, engineering and methodology to meet your expectations of quality, performance and professional design.
There are no wires in the Biomat. An electric blanket or electric heating pad uses electric current with wires or coils which run through it which is not healthy. The Biomat controller has EMI or Electromagnetic Interception which blocks the harmful EMF, as well as a Timer so you can set it to turn off in 2, 4, 8, or 12 hours settings. The Biomat contains 17 different layers. The Biomat is available in 5 different sizes.
The Biomat is a power heated mattress pad. The Biomat is an advanced and effective product developed by a highly skilled group of scientists, medical professionals and engineers. The Biomat had many tests including Electro Magnetic field, and Emission Power tests. The Biomat has been tested by TUV SUD for Electromagnetic Fields and were found to be in compliance with IEC 62233 (ed. 1) and EN 62233:2008.
BioMat's EMF (ELECTRO MAGNETIC FIELD) TEST on BioMat Professional (BMP)
All different condition of 120V 60Hz Electric System
EMI (Electro Magnetic Interference) can Block 100%
EMF (Electro Magnetic Field) can Block 100%
BioMat's EMF (ELECTRO MAGNETIC FIELD) TEST on BioMat Mini
All different condition of 120V 60Hz Electric System
EMI (Electro Magnetic Interference) can Block 100%
EMF (Electro Magnetic Field) can Block 100%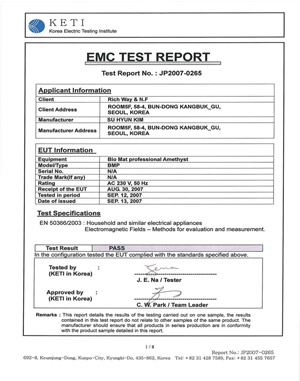 BioMat's EMF (ELECTRO MAGNETIC FIELD) TEST on BioMat Professional (BMP)
All different condition of 230V 50Hz Electric System
EMI (Electro Magnetic Interference) can Block 100%
EMF (Electro Magnetic Field) can Block 100%
BioMat's EMF (ELECTRO MAGNETIC FIELD) TEST on BioMat Mini
All different condition of 230V 50Hz Electric System
EMI (Electro Magnetic Interference) can Block 100%
EMF (Electro Magnetic Field) can Block 100%
| | |
| --- | --- |
| This is the Professional size Biomat. This is the massage-table size Biomat (27.56"w x 72.83"h) for all-purpose functionality and ease of mobility. (shown with Pillow sold seperately.) | |

Watch the Amethyst Biomat video